Hey everyone. I've just made my irefox look amazing in Windows Vista, and it should work in Windows 7 and Windows Xp (No transprecney for Windows XP)
If that's not enough to convince you here is a screen shot I made using the Windows Snipping tool.
[img=600x409]http://i992.photobucket.com/albums/af50/illage3/Firefox.jpg[/img]
If you want to do this your self a full tutorial can be found here.
https://addons.mozilla.org/en-US/firefox/addon/14284
The link contains all the add-on's and themes you need to complete it. If the menubar disapears press the "ALT" key to toggle it on or off.
Here is a screen shot.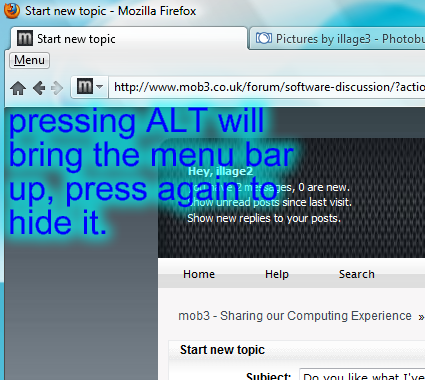 It's a really good theme I think you all should at least try out.  I for one love the theme it's nice to look at. If you are using Windows 7 it will be even more spectacular. There is also support for firefox 3.6 as well.
All add-on's can be found by clicking the link.
(P.S Sorry I didn't know where to post this)